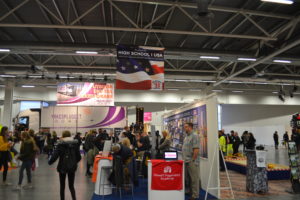 Boarding/Prep School Recruitment Tour,
Sweden.
October 5-11, 2020.
Gothenburg & Stockholm.
Meet over 30 000 students and families in the two largest cities in Sweden, Stockholm and Gothenburg.
Over the past 29 years we have been helping Swedish students study abroad, and since 2005 we have focused solely on sending students to study in the United States through our company Bluechip – Study USA. Bluechip is known for being the leading U.S. specialist in Scandinavia.
We have in the past few years seen a growing interest in Swedish students wanting to go to a good boarding school in the US. We have seen an increase in this as families are looking for better alternatives for their childrens education as the Scandinavian school system has fallen behind in many ways the last decade.
The tour will take place right after the NABSW in London so it will be perfect to come to Sweden after that if you are attending. This year we will be part of the Gothenburg High School Fair (Gymnasiedagarna) with over 25 000 junior high school graduate students attending (9th graders and their parents).. They are all looking for what high school alternative they should choose. You will be part of Bluechip Study USA booth. The tour is limited to only 7 institutions. The tour will fill up quickly so register early!
The Bluechip open house in Stockholm will be marketed primarily in daily press and weekly magazines that is read by high income parents. It will also be marketed to the elite high schools in Stockholm and students there as well as through different sociala media channels.
FAIR SCHEDULE AT-A-GLANCE
10/5 Arrive Gothenburg and check-in to Elite Park Avenue hotel. Meeting and debriefing at hotel at 7pm with Bluechip staff . At this meeting we will review logistical details, information and the agenda for the upcoming weeks tour.
10/6 Gymnasiedagarna High School Fair in Gothenburg 9.00am-6.00pm. You will be part of Bluechip Study USA booth.
10/7 Gymnasiedagarna High School Fair in Gothenburg 9.00am-6.00pm. You will be part of Bluechip Study USA booth.
10/8 Gymnasiedagarna High School Fair in Gothenburg 9.00am-6.00pm. You will be part of Bluechip Study USA booth.
10/9 Travel to Stockholm. Check in at Clarion Sign Hotel.
10/10 Open house in Stockholm at Clarion Sign Hotel (11am to 2pm) Each institution will be provided a table, chairs, and power outlet.
10/11 Check out and depart Stockholm to your next destination.
Meeting and Debriefing
In Gothenburg on October 5, 2020 at 7:00pm there will be a meeting at the Elite Park Avenue Plaza Hotel. Please attend this meeting as you will be provided your welcome package, tickets, and important information regarding the fairs & tour.
Investment
There is a non-refundable registration fee of $500.00 that will be invoiced upon receipt of the registration form. Registration is confirmed when the fee is paid.
The participation fee for each institution is $6,450 (4 fair days). This will be invoiced in August, 2020 and made payable no later than September 15, 2020. If registration is done after September 15, 2020 payment is due upon receipt of invoice.
The cost covers booth and venue hire, promotion, marketing, advertisements, invitations, technical equipment, dinners and activities and all necessary organization prepared by Bluechip – Study USA.
Dates & Refund Policy
Registration is open until maximum number of participating institutions has been filled.
Should you need to cancel your participation, the following refund policy will apply:
* 60-75 days before exhibition: 50% refund on all fees, paid or due
* 45-59 days before exhibition: 25% refund on all fees, paid or due.
* < 45 days before exhibition: No refund
Accommodation & Travel Arrangements
Participants are strongly recommended to book the pre-arranged travel and accommodation package. This package includes travel from Gothenburg to Stockholm, hotel with breakfast from Oct 5 to Oct 11. (6 nights) All you need to do is to arrive in Gothenburg on Oct 5 and depart from Stockholm on Oct 11, 2020.
Hotel in Gothenburg
Elite Park Avenue Plaza
Kungsportsavenyn 36-38
SE-400 15 Gothenburg
Sweden
Hotel in Stockholm
Clarion Sign Hotel
Östra Järnvägsgatan 35
111 22 Stockholm
Sweden
The total cost for 6 nights accommodation including breakfast and all travel between cities is $1,595 per person (Standard Room), which is corporate rate. If you wish to add the travel and accommodation package the fee will be added to your invoice.
Please note that Bluechip has made arrangements for 7 rooms and travel seats only. The fair is limited to only 7 institutions. Last years fair filled up. Thus, please register early.
You will receive further information regarding room reservation and addresses once your registration is processed. Please select on the registration form. If two or more representatives sign up from the same institution, please note that the participation fee remains the same although the travel accommodation package is priced per person.
Detailed information will be sent to registered institutions regarding travel, material, hotel, logistsics, etc approx 4 weeks prior to the start of the tour. We hope to see all of you in October for another great tour.
For registration please klick here…